Nouvelles
GERMAN-ITALY TECHNOLOGY AND PRODUCTION
RATIONAL AND EFFECTIVE ENGINEERING.
14-02-2019
2019/02

LIGNA HANNOVER 27-31 MAY 2019
Meet us at Hall 25 - Booth M46 !
12-02-2019
2019/02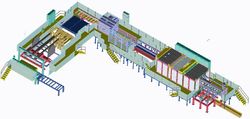 A.Costa Righi S.r.l a fabriqué et fourni à un client portugais une ligne complète de scierie pour la production de tables pour la construction civile.